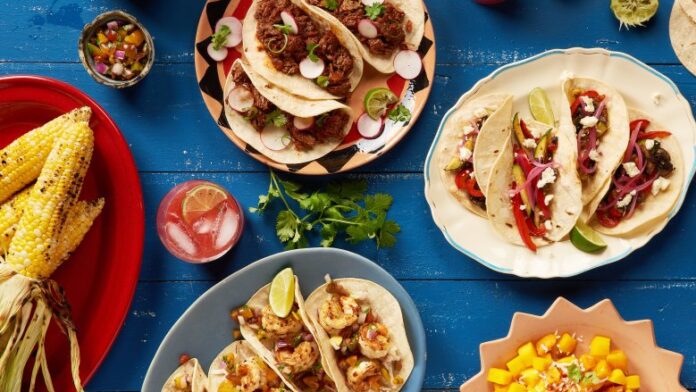 Having moved to the US from the UK, some of our new American friends are surprised to learn that our family are fervent fans of Mexican cuisine. Somehow, they thought our diet consisted mainly of Indian curry, haggis, and full English breakfasts.
It's true that there aren't all that many Mexicans in the UK, as there are probably less than 10,000 residents there who were born in Mexico. But quite a few of them have started their own restaurants, so word of Mexican cuisine has spread among the British.
Also, the UK does have a few chain restaurants specializing in Mexican cuisine. One of our favorites was American Mexican Food, with its wide range of treats such as quesadillas, Mexican pizzas, fajitas, burritos, chilis, tacos, chimichangas, enchiladas, and Mexican chili wraps. They also serve burgers and kebabs (view full menu here).
Of course, we fully wished to continue enjoying our share of Mexican dishes here in the US. We asked around among our new American friends as to which Mexican fast-food chain restaurants are the best to visit, and here are the answers we received:
Moe's Southwest Grill
This isn't exactly an old name in the Mexican fast-food and fast-casual dining industry, as it only started out in 2000. But the brand expanded to 700 locations by 2017. It didn't hurt that an increasing number of fans were starting to regard Moe's Southwest Grill than the venerable Chipotle brand.
Part of the reason for Moe's increasing popularity is that their diners have come to appreciate the freshness of their ingredients. Most of the time, you don't really expect super-fresh ingredients from chain restaurants. You only expect that sort of thing from the small, family-run eateries.
Yet at Moe's, you have stuff like grass-fed steak and grain-fed pork. They even offer organic tofu. They don't have freezers here, and there are no microwave ovens, either. They even grill their veggies on a separate grill to avoid the sort of meat contamination that annoys many vegetarians.
Even the atmosphere in their locations is super-friendly and relaxed. Just enter any of their locations, sit back with some freshly fried tortilla chips with natural salsas to start with, and enjoy.
Torchy's Tacos
Admittedly, many of us in the UK haven't really heard much (or anything, really) about Torchy's Tacos. It started out in Austin as an excellent quick-service taqueria, then it expanded with more locations across Texas, and eventually Oklahoma and Colorado.
Their menu offers a lot of breakfast treats and various taco versions, which you can basically enjoy at any time of the day. They offer innovative fillings, which they make sure are responsibly forced. These include catfish crusted with cornmeal, green chile pork roasted slowly, portobello mushroom, and fried avocado that they've battered by hand.
You can also go with their deep-fried chocolate chip cookies, brownies which they make entirely from scratch, and even street corn with queso fresco. For your drinks, you can opt for some craft beer, artisanal cocktails, and margaritas served frozen or on the rocks.
You might even want to do a bit more research on their secret menu and their secret tacos. Their Hipster taco features green chiles and panko-fried tuna. There's also the "Jack of Clubs" taco, with potatoes and fried eggs. With tacos like these, you won't get bored in Torchy's.
El Pollo Loco
It has always surprised us how often we discover a "Mexican" restaurant wasn't actually founded by an actual Mexican. That has happened quite a few more times than we expected. But with El Pollo Loco, it was founded by Pancho Ochoa, who really did immigrate from Mexico. He and his wife then started a roadside chicken stand in LA, before going on to launch El Pollo Loco in 1980.
Right after the launch, their El Pollo Loco was super-successful, with long lines queueing up for their grilled chicken and red salsa (which were the only things they sold back then). Today, they have more than 480 locations spread all over the country.
What makes their chicken special is that they marinate their chicken in citrus, before fire-grilling the chicken over an open flame right behind their counter. They've also added quesadillas and tacos to the menu, along with Sinaloan-style chicken dinners. It doesn't hurt that because they grill and don't fry their chicken, they're one of the healthier options in the entire US chain restaurant industry.
Del Taco
You can find one of their 500 (at least) locations spread across 16 states, and many fans on the West Coast swear by the brand. What makes Del Taco distinct is that they offer more "Americanized" dishes alongside their Mexican options. So, if your buddy wants a regular burger but you're craving a taco, Del Taco will have you both satisfied.
Here's a tip to a great Del Taco visit: ask for your Mexican dish to go "bold". That means they'll serve it stuffed with fries, and then shower the item in their secret sauce. That's one great way to enjoy your Mexican meal!
Torchy's Tacos Founder Mike Rypka Shares Secret Ingredient to Success