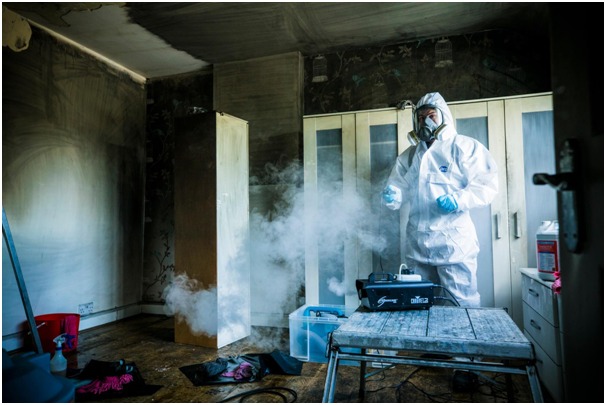 After water damage, fire is another worst situation that can occur in anyone's life anytime. There can be many reasons for fire damage, which can take people's lives and damage the entire home, including all your belongings. On top of that, a fire in a house or business can also cause mental distress. But if you act quickly after the fire, you can easily save your home.
Yes, we are talking about hiring a fire damage restoration company as they can quickly clean your home after the fire. Apart from this, there are various benefits of hiring a professional company.
Prevent lasting damage
If your home has suffered from fire, it can be permanently damaged no matter how many firefighters extinguish the fire. The reason is that after the fire, there are various things like ash, smoke, and heat that will continue to damage your property even after the fire. But if you hire a reputed fire damage restoration company for the work, they can prevent this permanent damage.
That means when you call them, they will come to your doorstep within no time and start removing the affected parts of the house which need repetitive repairs in the near future. Apart from that, they try to remove everything that can damage the home, like ash, smoke, etc.
Fire damage restoration professionals are highly experienced.
The word experience matters a lot in the corporate world, which never gets old. Here if you talk about fire damage restoration professionals, they know various skills which they have obtained through their experience and training. That means, if the company which you have hired has been in business for years, their professionals have encountered the same issue many times.
Because of this reason, they very well know how to mitigate the problem quickly so that there will be no further damage. Moreover, along with the clean-up process, they have hands-on experience with repair methods, specialized tools, and equipment, and on top of that, they very well know how to handle hazardous conditions smartly.
So, before you hire a fire damage restoration company for the work, ensure to check their experience, which will be an add-on and offers you peace of mind.
Thoroughly inspect the home.
The fire damage companies very well know what to do when your property suffers from fire. That means they have the right experience and skills to inspect your home to identify the area that needs restoration and repairs. They will first examine the entire property to know the extent of the damage and then develop a plan to restore the property.
There are various reasons why fire can erupt in your home, and in that case, the fire restoration company responds fast and gets your home rid of fire damage.
Have access to specialized tools and equipment
Reputed fire damage restoration companies professionals are indeed highly skilled, qualified, and highly experienced in their work. Along with it, you will be happy to know that they also have the latest and specialized tools which make the clean-up process quick and easy.
In addition to that, with the time, they also have workshops that guide them about the newest developments in the industry so that they can easily save the homes of the people. For example, removing fire soot residue needs an innovative combination of technical skills and technology. So, while hiring a professional fire damage restoration company for the work, ensure to ask them about what type of tools and equipment they use while doing clean-up. Moreover, they also have high-quality cleaning products that can restore the property.
Delivers a quick response.
The fire restoration company very well understands your urgency; that's why they are quick in their actions. That means when you call them for help, they offer efficient and fast emergency response services so that property will not damage further.
On top of that, they do a clean-up process within no time, no matter what is the condition of your home. Although you can start the clean-up process independently, you cannot make the process fast due to the lack of proper tools. So, if you want your home not to get any of the potential damage, ensure to call a fire damage restoration company for the work.
Easily handle the insurance paperwork.
Beyond offering all the above benefits to the homeowner, the professionals of a fire damage restoration company can help you handle the insurance paperwork and any of the issues. The reason to help in this field is most people do not understand the complicated insurance forms.
Apart from that, they also understand that homeowners have to spend time with their family in this crucial condition which makes them feel protected and cared for.
If you want to reverse fire damage, it should be done with an intense and thorough cleaning. Here if you hire any amateur cleaner for the work, they cannot be able to remove smoke and ash from your home. But in the case of professionals, they very well know what to do when this situation arises.
When we talk about deep cleaning in the case of fire, the first target is smoke odor and ash particles that settle on the surface. However, if this ash is left unattended, it will destroy the home surfaces because of its acidic properties. In short, the fire damage restoration workers will take the cleaning process seriously so that nothing is left to chance.
They help in eliminating the burning smell.
No individual wants to live in an environment where you get burned or smell, ash. So, hiring a smoke damage Restoration Company will be the wise decision as they are equipped with the right tools and expertise to remove the burning smell altogether.
In short, they are the right people who love to make your life comfortable and enjoyable by restoring your home as before.
The bottom line
An accidental fire is a very rare phenomenon, but it can easily damage your home and sometimes can take lives when it occurs. So, you have to prepare yourself if any emergency occurs in your home. The reason is the faster you will act, the better the result will be. However, in the case of fire damage, it is best to call a professional company for restoration work as they have years of experience in this field.
But while hiring a fire damage restoration company, ensure that you must hire the reputed company after thorough research.
Author Bio:- Billy Hust
Billy is a marketing manager at EZ Restoration USA. Her extensive knowledge of plumbing services has helped many people to overcome water damage and slab leak repair issues in their homes and offices. Through her blogs, she shares valuable information to the people across the USA about the advantages of AC & other appliances installation in San Diego, why regular maintenance of the HVAC system is required, and how to detect, prevent, and fix the water damage and slab leaks in your property.
Stay tuned with her recent posts and lead a comfortable life through extensive information on signs of plumbing and HVAC systems issues and the right solution to fix them.